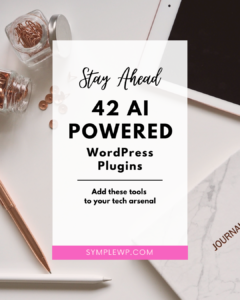 Get access to a list of 42 AI-Powered WordPress Plugins
Artificial Intelligence (AI) has become an integral part of our lives, transforming the way we interact with technology. From virtual assistants to self-driving cars, AI has found its way into various fields, including web development.
In recent years, AI-powered WordPress plugins have gained immense popularity, as they help streamline tasks and improve the overall user experience. These plugins use machine learning algorithms to analyze data, generate insights, and perform tasks automatically, thus saving time and increasing efficiency.
In this PDF you will find some of the most popular plugins available in the market. Whether you are a blogger, business owner, or web developer, this post will provide you with valuable insights on how AI can revolutionize your WordPress experience.
Just insert your e-mail below and we'll send it to you.